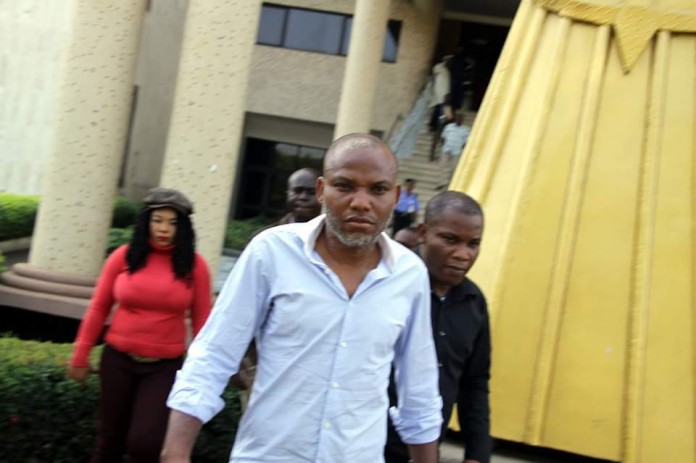 Vincent Obetta, lawyer to embattled leader of Indigenous People of Biafra, IPOB, Nnamdi Kanu, has denied reports in the media that Kanu tendered an unreserved apology to President Muhammadu Buhari.
Obetta who spoke with the cable on Wednesday said reports that the Director of Radio Biafra apologised to Buhari were proof that the government was trying to use all instruments at its disposal to "puncture" Kanu's defence.
Obetta said, "It is not true, the government is using every instrument to puncture what we are doing."
NEWS360 INFO recalls that Kanu in a statement he allegedly made to the Department of State Service, DSS, on October 23 said he intended to write a private letter to Buhari to express his apology for referring to Buhari as "a terrorist, evil and a paedophile" in some of his radio messages.
The 48-year-old pro-Biafran agitation leader who has been in custody of the DSS since his arrest in Lagos on October 14, 2015 was, however, unapologetic about his demand for a Republic of Biafra.
The prosecution, in the summary of the case, alleged that in one of the radio broadcasts by Kanu on August 1, 2015, he expressed his resolve to actualise the Republic of Biafra and "cast aspersions on the person and the office of the President of the Federal Republic of Nigeria".
The statement reads, "Reference to the President of the Federal Republic of Nigeria as a terrorist, evil and a paedophile is regrettable and uncalled for and for that, I unreservedly apologise and will be doing so in a private letter to the President.
"Before PMB (President Muhammadu Buhari) there was the administration of Goodluck Jonathan. I also said uncomplimentary things about him and Igbo elders as well, which I now recognise should not have happened because it is un-African to be rude or insolent to elders.
"All I was trying to do is to draw attention to the problems afflicting society and something done about them."